News & Events
News:
4/3 – 4/ 5 – Half Days (12:10pm Dismissal for 3rd Report Conferences)
4/12 – Half Day (12:10pm Dismissal)
4/18 – 4/22 – No School (Spring Break)
4/24 – 4/26 – ELA PSSA Testing
4/29 – 4/30 – Mathematics PSSA Testing
5/2 – 5/3 – Science PSSA Testing
5/21 – No School (Election Day)
5/31 – No School (Memorial Day)
Events:
4/5 – Leader of the Month Assembly (11:00am)
4/9 – 4th and 5th Grade Trip to the Philadelphia Zoo
4/17 – 4th and 5th Grade Pizza Sale ($2 a Slice)
4/25 – Kindergarten Trip to the Schuylkill Center
4/26 – Room 101 and 108 Bake Sale
Announcements:
April Calendar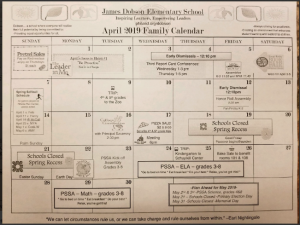 Leader of the Month
Once a month, Dobson has a Leader of the Month (LOTM) assembly which is planned and hosted by students. Each month the entire school focuses on a specific habit and every class votes each week for who they think exhibited that habit and deserves the honor of being named the Leader of the Week. At the end of the month, the class votes among the Leaders of the Week to choose an overall Leader of the Month who is honored at the assembly. The students who are being honored at this assembly are hard-working, community builders, who live the 7 Habits.